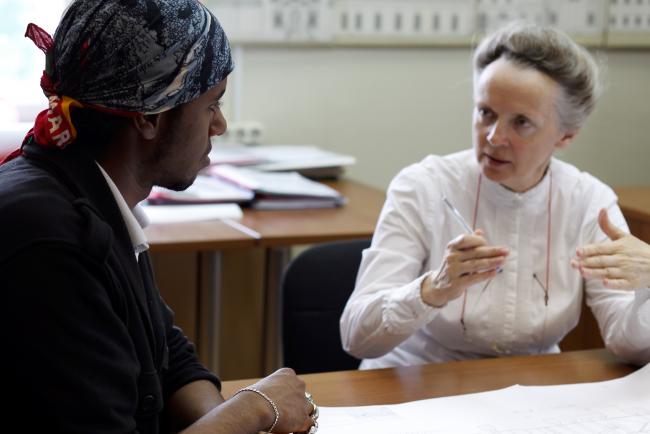 Higher education in Russia. Why VyatSU?
If you are looking for a quality Russian education, then our university will be a good choice!


Nearly 20,000 students from 27 countries have already chosen VyatSU to get education in the most demanded specialties.


We provide modern knowledge, demanded and sustainable skills in a wide range of areas.


If you are thinking about a successful career or starting your own business, you can achieve this with a diploma from VyatSU.
Where is the university located?
VyatSU is located in the center of the European part of Russia - in the Kirov region. The city of Kirov with a population of 500 thousand people is calm and safe.

The city has good infrastructure, a large number of places where you can relax, have fun, go in for sports, art.

Medicine is well developed - many come to Kirov for treatment from other regions.
The cost of a consumer basket (the minimum set of products and goods necessary for life) is slightly more than 10 thousand rubles (just over $ 140) per month.
For comparison, a consumer basket in Moscow costs almost twice as much.
Frequently asked Questions:
- Can I go to university? Do you accept from any country? - Yes!
- Can I apply for admission to your university only after finishing school, or is it possible later? - You can go to university just school, and later.
- How many years do you need to study at the university (bachelor's, master's, postgraduate studies)? - The bachelor's program lasts 4 years, the master's program - 2 years.
- What are my chances? Is there a competition for admission? - Yes, there is a competition but everyone is equally welcome to be in the competition
- Where can I see and choose specialties (areas of study)? - Specialties and areas of study can be viewed at the link (unfortunately, so far the information is only in Russian)
- What documents are needed to enter the university? - 1. Сopy of a foreign passport and its notarized translation, 2. educational document and its notarized translation.
- What are the entrance tests? - The set of exams depends on which program you have chosen. This is also a rather complex issue that is best discussed in personal consultations.
- Can I transfer to you from another university? - Yes!
- Is it possible to study for free at your university? - Yes!
- Will I be provided with a hostel? - Yes!
- Will I be able to get a scholarship? - Yes!
- Is it possible to study at your university on paid basis? -Yes!
- Is it possible then to transfer from paid education to free? - Yes!
- Is it possible to work while studying at the university? - Yes!
- Is it possible to get a job in Russia after graduation? - Yes!
Сost of training
The price for training will pleasantly surprise you: training on the most affordable programs is cheaper than 70 thousand rubles (less than 1000 US dollars) for one academic year!
At the same time, we do not deviate from our main value - the quality of education is above all! We guarantee a high level of student training, which is often confirmed by our partner-employers.
At the preparatory department - $1000 - $1300
On college programs - $700 - $900
On undergraduate programs - $1300 - $2500
On master's programs - $1400 - $1600
On postgraduate programs - $1600 - $1700
What if you don't know Russian language?

If you are not yet very confident in speaking Russian, the University is ready to offer you training at the preparatory faculty. In a year they will teach you not only to speak Russian, but also strengthen your knowledge in the field in which you would like to become a professional.
Vyatka State University also implements two Master's programs in English:

Strategic management

Recycling technologies for material resourses
The admission campaign of Vyatka State University (Russia) will begin on June 19!
Key dates for the 2021 admissions campaign revealed:
June 19 - start of the acceptance of documents,
June 24 - completion of acceptance of documents for those who enter the university based on the results of entrance examinations,
July 29 - completion of documents acceptance,
August 2 - Competition lists will be published,
August 11 - completion of acceptance of applications for consent to enrollment in budgetary places,
August 17 - Publication of enrollment orders.
Applicants will be able to submit documents
through postal operators,
electronically through the organization's information system,
through the superservice "Admission to the university online" on the State Services Portal,
you can also bring documents in person.

			


Vyatka State University aims to train successful people in all spheres of activity: 
from history and jurisprudence to construction and information technology.