The semester exams is not a reason to forget about joy, especially if it is on these days that the main holiday of students is celebrated - the Day of Russian Students!
On January 25, the Vyatka State University held a traditional celebration in a format that is loved not only by students, but also by their mentors.
"We specially celebrate this holiday not in an official setting, but informally, arranging real fun," said the Rector of VyatSU Valentin Pugach.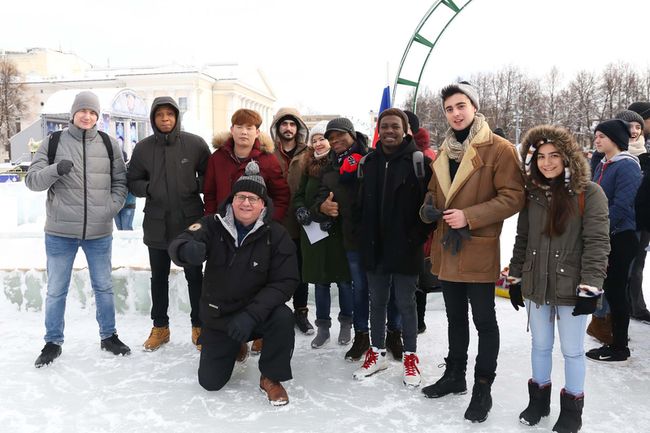 He congratulated students of all Institutes and the College of Vyatka State University, gathered on the Theater Square, and announced the start of "Student Races", joining one of the teams.
"Discogolf", "Comic football", "Ski races around the Christmas tree", "Sumo wrestling" and, finally, the general big relay race - these stages formed the route of each team, giving everyone flood of positive emotions!
Foreign students of Vyatka State University, who were not afraid of a slight frost, became active participants in the holiday. Moreover, the Russian winter appealed to representatives of hot countries.
"I like to live and study here," said Alli Pascal, who came to Kirov from Haiti. He said that he has been studying Russian at the Preparatory Faculty of the Institute of Continuing Education of VyatSU for three months. Alli plans to continue his studies and become biologist.
The Alli's team "Friendship" (ICE) took the 3rd place in the competition! On the 2nd place - "Vinaigrette" from the Pedagogical Institute, the 1st place was awarded to the team of the Law Institute!
Winners and prizewinners were presented with gifts. The surprises continued with the distribution of the "Student Freebie", which took place during the summing up of the traditional holiday drawing!